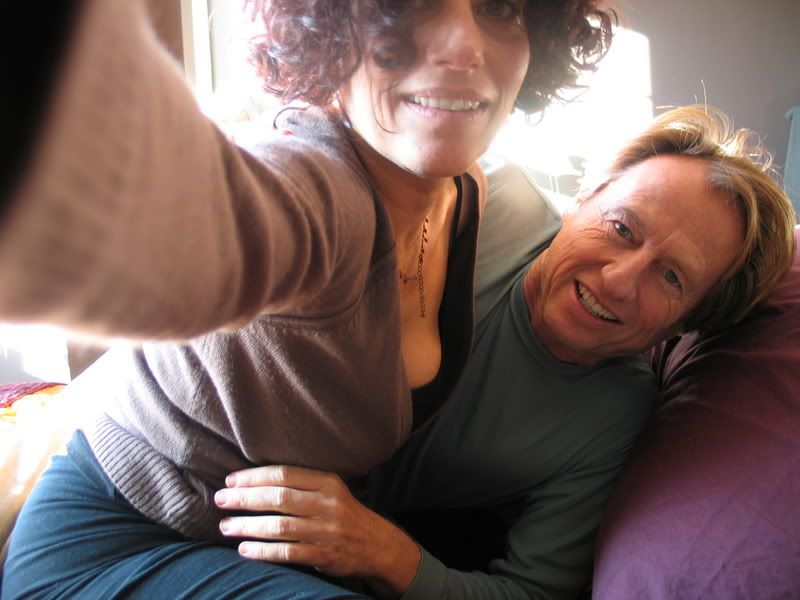 1. pdaddy & I are in love.

2. it took almost 4 years & minimum of 2 breakups each to make the space to be together.

3. once this space was cleared we fell crazy head over heels for each other, barely taking time to breathe & occasionally taking time to mutter insanely i love you
over & over

4. it's been approximately 1 year & a half (the high end of the expiration date on dopamine, the brain junk that we humans can't get enough of . . . it's called the satiation response !!?!! -- this is our bodies taking responsibility . . .)

5. we have taken no less than 7 extended "honeymoons" in that time to celebrate our amazement at our union.

6. Dr Helen Fisher (MY CURRENT & ULTIMATE HERO, LOVE SCIENTIST EXTRAORDINAIRE) divides love into three categories involving different brain systems:

a) Lust (the craving for sexual gratification), driven by androgens and estrogens;
b) Attraction (or romantic or passionate love, characterized by euphoria when things are going well, terrible mood swings when they're not, focused attention, obsessive thinking, and intense craving for the individual), driven by high dopamine and norepinephrine levels and low serotonin;
c) Attachment (the sense of calm, peace, and stability one feels with a long-term partner) driven by the hormones oxytocin and vasopressin.

(oh, and also, btw, Dr. Fisher says don't copulate with people you don't want to fall in love with . . . )

6. we are now rather skittishly cohabitating, tho I have my studio nipping at my heels & calling me to attention.

7. yesterday I accompanied my man to an event where a brother of the non genetic variety, with whom pdaddy had lived through many trenches & many lifetimes, was celebrating his life in the face of aggressive cancer. many other brothers were present. they held each other close. pdaddy introduced me as his partner. i stood behind him & a little bit above him when the big crying was happening (on the inside & not) when all the men had their arms around each others waists & shoulders. later i placed my hand on pdaddy's shoulder.

8. i loved it, it hurt so much, i loved it more.

9. i feel like i am growing up & i don't know what that looks like.

10. i feel unsure.

11. i feel cranky.

12. i love him.

13. i want to grow into this.