dear love artist,

a few months ago I met this guy in a coffee bar. It was a really random encounter, one of those things you hear about or see in the movies – one minute you are ordering your latte & the next minute you're making out in broad daylight . . .

it got hot & heavy – we were immediately talking babies. he is 40, I'm 32.

which brings me to my question . . he's really wrapped up in an ex-girlfriend's kid . . it's not his kid, but he's a kind of proxy parent in the mix, takes care of her a lot & he can't seem to get enough of her, he's in love with her. I told you we started talking babies right away & I think he'll make a great dad but his obsession with this kid, makes me crazy. It's kind of the classic story, we're hanging out, laying around & he's spacing out, I ask him what he's thinking & he tells me it's about this girl.

I can't compete – she's two years old, beautiful & loves him unconditionally, he's perfect in her eyes.

Do you think I'm being ridiculous?

Thank you,

babies are us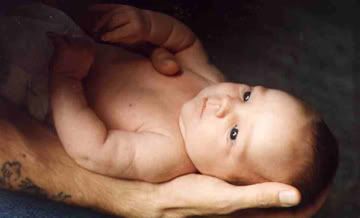 my dear BAU,


yes.


I get it . . your obsession about securing your man's attention on you & you alone . . I think it's really a caveman (or cavewoman) thing . . primal, genetic, animal & totally, duh, of course . . they don't call me the love artist for nothing . . I love to be cherished & I love, love, love when it's all about me.

however this is not always possible. we are human & we love humans & humans are complicated. they have multiple realities & sometimes none of them relate to our own. even when we are in love, even when our molecules are heavily communicating with their molecules, we ACTUALLY could misunderstand just about everything that is going on in our significant others heads, because we are too busy understanding (or not understanding)what it going on in our own heads.

crazy but true.

so, that said, all bets are off in understanding what your guy's deal is with this kid.

first things first, do any other adults in this scenario sense anything out of the ordinary here, or is it just your own love antennae buzzing?

if no one else thinks this is weird, then this is what I think: he is touched by this fragile, vulnerable child who has been delivered to him to care for & whose overflowing trust & love is bringing up things he probably doesn't even know or understand. he probably doesn't need to.

yes, it is difficult to compete with this innocence, particularly if you are a complicated woman with a penchant for processing (I'm just guessing here) but YOU DON'T NEED TO.

if it is only you obsessing . . & you really love him, stop pushing
now
. . hands off (at least figuratively) . . . let him reveal himself to you . . . & breathe.

I bet you will be really glad you did.

love xxx tla