this is my dog bella. she died a few years ago at the happy age of 14 or 15. here she is in a video that i made for an installation that was titled

this makes me high

it was a chronicle of a month of my life ~ where every time i met someone that made me feel high, i filmed them looking at me. staring into the camera, for three minutes, loving me or whatever they felt like doing, then I strung them together in a video of about 3 hours in length & played them in loops of various lengths, at random intervals, on a pile of 10 tvs -- the old fashioned kind with cheesy wood veneer and tons of buttons and dials -- there were wires everywhere, it was a chaotic mess . . . the version above was a memorial exhibit a few years later, but whether large and unwieldy or small & somewhat elegant, the effect was the same, that you, the viewer, were showered with the love that was coming to me, the love artist . . .

actually i was not the love artist yet . . this was a year that i had taken off from making art, everything was a struggle that year . . . i just felt like giving up

i was working as a teacher of activities of daily living in a private lockdown facility for severely traumatized teenage girls & absolutely everything seemed inordinately difficult

one of the few times i worked a real full time job, more than full time, like 50 hours a week

i would arrive home so exhausted I could hardly walk my lovely dog bella. i couldn't make art & i was so not in love it wasn't funny

i decided that year that the only way i could live was if i let go of the expectations of being in artist or believing in romantic love. it was the only way i could cope, to just eliminate these things from my list of expectations

it worked. i would just come home from work & kind of vege on the couch & was happy when my kids were around, you know, maybe take a bath . . . that was literally all i did for a good 6 months . .


all of a sudden this idea popped into my head, of filming everyone i saw that made me feel good & then i suddenly started to make art again from the idea of letting go of being an artist completely & utterly

a year later i started the true love project . .


i got the idea from a yoko ono film i saw, Film No 5 (smile):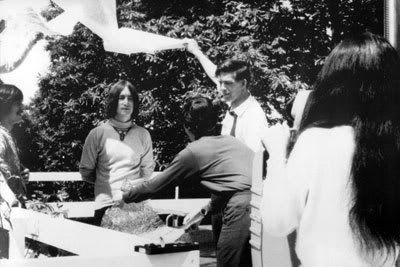 Film No. 5 ("Smile") by Yoko Ono, 1968

Cast: John Lennon
Camera: William Wareing
Music: John Lennon
Light/location: Garden
Instruction: Bring your own instrument
51 minutes
Premiere at the Chicago Film Festival 1968


"One afternoon, John and I went out in the garden and shot Film No. 5, the smile film, and Two Virgins. They were done in a spirit of home movies. In both films, we were mainly concerned about the vibrations the films send out - the kind that was between us. But, with Film No. 5, a lot of planning, working and talking out things had preceded the afternoon. For instance, I had thought of making Film No. 5 into a Dr. Zhivago and let it go on for four hours with an intermission and all that, but later decided to stick to a more commercial length of an hour (approx.). 8 mm. copies of the film are also available for people who'd like to have the film on their wall as a light-portrait Also, we'll store some copies for the next century."


"Imagine a painting that smiles just once in a billion years. John's ghostly smile in Film No. 5 might just communicate in a hundred years' time, or maybe, the way things are rolling, it may communicate much earlier than that."

"Some critic recently commented on us, John and I, as being lollypop artists who are preoccupied with blowing soap-bubbles forever. I thought that was beautiful. There's a lot you can do with blowing soap-bubbles. Maybe the future USA should decide their presidency by having a soap-bubble contest."


Quotes from the essay on Film no. 5 (known as Smile) and Two Virgins by Yoko Ono, October 22nd 1968