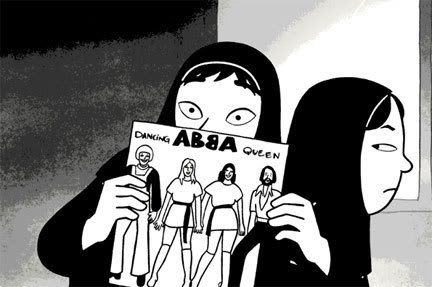 yesterday afternoon i took myself on a little date to see persepolis & i had such a good time. i loved it so much. smack in the middle of the whole thing, unrelated (i think) to the subject matter, i had an epiphany.

i had had a similar epiphany a few years ago, while having sex. the former epiphany was when i realized that although i had always considered myself an erotic person, i was actually trying too hard. i was always trying to find my partner somewhere, some mysterious halfway point & although i was often easily aroused & excited, i often tired of sex. it went on too long. i got bored. i couldn't find a rhythm that carried me. but that magical day, i realized i was fighting the f**k by looking for it & ultimately trying to control it. That magical afternoon, i let myself be really taken & i was taken for quite a while, months actually, years . .

yesterday, i was really enjoying the movie, but in the back of my head i was fretting about my week, the book, my love life, how much moving around i need to do in the coming weeks, & suddenly there was a voice in my head that said take only what you need. I thought to myself, of course. but the voice came back no, really only what you need, like only the course structure(s) for the next week, only the chapter that you are working on, only the couple of outfits that you can wear morning, noon & night & be the love artist completely totally . .

the connection to the sex epiphany was this: let life f**k you, royally, totally, be taken by complete & utter UNION, with total bodice ripping abandon, just take a few pairs of panties & a little rouge, you tart, cause something really great, better than you could have ever thought up on your own is waiting for you

i am really excited

p.s. it's really funny cause about 7 years ago -- & you all know about the 7 year cycle -- i had a major major life-altering ephiphany in a small art cinema in berlin while watching WAKING LIFE maybe i'll tell you about it later . . angelic visitation thru animation . . . .