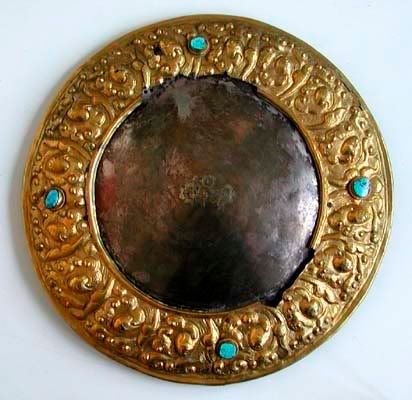 "When advising the Dalai Lama, the State Oracle wears an elaborate costume, including this mirror on his chest. In deep trance, he looks into the mirror, not directly, but through another mirror held by an assistant in front of him. Through this doubly distant vision he foretells the future and gives advice"


the events of the last week are not honorable, or not consistently so, not dignified, pretty messy:

1. finally got back to home, & didn't want to see the pdaddy, haven't seen the pdaddy in 5 months, was kinda cocky about it in the face of ignoring a whole lotta email, texts, presents, etc but for all intents & purposes have not let go, mostly out of a negative enmeshment disguised with a whole lotta messy-like-whip-cream-&-honey-(& blood)-mashed-into-yr-couch-&-carpet-so-hard-you-may-have-to-just-throw-it-away real love


2. had my opening here in hudson, which is really only about 3 blocks long, & even tho i perfected the avoiding your ex in a small town while living in ptown in the 90s (many scary desolate winters, but that is a whole other novel) thinking i was so smart, decided to break my sanity fast & see him for lunch so it wouldn't be so traumatic to see him at the opening


3. of course, thought i was so cool, tho i did indeed play it uber cool at the opening, tried to see him again a few days later (did i say i broke my sanity fast) & a coffee turned into a walk turned into dinner (did not turn into what you might think, but i am not proud to say it, cause i still broke my sanity fast & i am still insane) & spent way too much time in the temple even when it was clear that nothing had changed i pressed on anyway in that ridiculously would-be-tragic-if-not-so-cliched way we all have of flirting with our exs where we fantasize about going back to the beginning but we really know we will just go back to the torture of the end (ok with maybe a brief erotic encounter if you are lucky ;) . . . and if you don't relate, you either have amnesia or you're lying)


4. a few days later i realized how deep into i was in my head & tried to separate from the narcotic enmeshment by being mean, to maybe scare him away or shock him into a behavior i could accept as the man i want to be with


LET ME INTERRUPT THIS TO MAKE THE FOLLOWING ANNOUNCEMENT:

i, as the love artist, do sincerely believe, with my whole heart, in accepting people for who they are, RIGHT NOW & also do believe, with my whole heart, in no expectations, but there are some tarnished love mirrors that get more obscure the more you try to fix them

& there are some relationships that get under your skin & into your veins like chemical warfare & you can't shake the virus how hard you try

&, as the love artist, i do believe in the goodness of all beings

underneath it all, even the infamous & rauschbold . .



5. then i thought, no this is not the way, this is not elegant, this is not with grace, this is not the love artist way
so i called again
to have better, clearer closure
& you know that never works out


6. let's just say that
& i am fessing up big time now
yes, i was trying to be good, but really i was trying to win somehow, somehow wanted the last word, wanted to leave with a little power in my hand
& i am not proud of this
but i was still just that angry & shouldn't have been playing poker against the love card shark
shouldn't have been trying to pretend i was so cool, cause i'm not
& it still hurts & i still hurt &
i am not ready to swim in the deep water w/o my lifeguard HP


7. so i am here to say that i cannot fix it anymore, i am humble, i will not be embarrassed
i am full of love
& that sweetness will carry me, that gentleness will carry me
love hurts & can play dirty til you turn it over, til you stop trying to get your own way


8. & i say all of this at the risk of feeding the demon of this narcissism disguised as love as it has played out on these pages

& i say that with love, you know i do