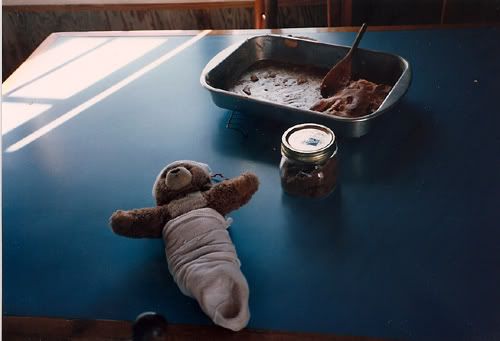 i am an over-nurturer & i believe it is an art

i am the mother of three over-nurturers, each with their own particular joie de vivre & weltanschauung & their own particular growing pains that i, as an over-nurturer, have not been able to do anything about

that is the thing about being an over-nurturer, you gotta have absolutely no attachment to the result, you just gotta do it, like it comes naturally, but from the bottom of your heart, from your root, like the buddha smile, & it takes a whole lot of throwing oneself off a cliff to do it right

i like to turn the flame up high. i don't like to wear safety anything (tho i must admit i do sometimes . . )

i love to live with a wide open heart

this hurts often & maybe i am crazy, but i believe this only hurts because i am holding back, not because the world is unsafe or those in it untrustworthy

last week or the week before i got a message from the universe:

do you know what happens, kathe, when folks distrust the trustworthy?

they begin attracting the untrustworthy

ain't pretty

and for those who trust the untrustworthy?

yeah, they begin attracting the trustworthy

trust me, the universe



now i think the idea of being wide open is a difficult concept for a girl to hold without feeling somewhat conflicted in a multitude of ways & yet it is an inherent feminine gift is it not?

to be open to be flow to be the vessel

to be wide open feels like setting oneself up for rape, i know, i have felt that before, i can feel it right now, in a heartbeat

& of course i don't buy the "she deserved it" but i also know i have taught many, those trustworthy & untrustworthy, those "deserving" & "undeserving" how to love & i also know that whatever pain i have felt were really growing pains, tho i may have appeared all banged & bruised, here i am almost a half century of loving, from the womb, really & there has not been one year that has passed that i have not grown, not been forged by love, have not become more & more beautiful, stronger & stronger

& that was because the intent, underneath all the sexiness, all the neediness, all the subterfuge, was truly truly to love

i had a mission & i believed in it

& when times got tough or dangerous, i was lucky to see my mission dangling, sometimes way off to the side of my peripheral vision

& i grabbed it

i believe that the problem with over-nurturing is the

over

part & not because it is excessive but because

it is so necessary

over-nurturing is just pulling out the stops & circling the horses because

over selfishness is so rampant

the carnage is legion

there is a love puppy in my life that i love to over-nurture

i love it

it brings me so much joy to baby him & he licks it up

this is not a lover, but then again, who is not my lover, really

he is a dear, dear one & dear friend, abandoned in the world at a young age by parents who i am sure wished somewhere in their hearts to love their children to the best of their abilities (& i am sure did their best) but who were so wrapped up in what they thought was love, romantic love, for each other, losing sight of their children & their best interests & ultimately getting tragically lost, completely

this orphan waifdom only attracts my over-nurturing predilection in times of emergency but when it does

it is a beautiful thing

my love puppy curls up & i love him to the most extreme of my capabilities

i know, i know

reeks of co-dependency, but another word for co-dependency is un-bridled love for those that know how to put everything on hold for the moment of need

& we do hit the wall often, my love puppy & i, & i have to own up:

the only way i know you are spoiled is because i spoil you

is it wrong to be a giant in the face of mass abandonment, to be a goddess

if you have the calling

the true artistry is how to hold the self intact in the process & for more instructions

keep your eyes peeled for HOW TO BE A LOVE ARTIST

coming soon . . .


the more you ask of me, the more love i have to give

it is all in the intent

it really is

i love you





me & my daughter jules, the budding love artist